There are a host of advantages to composable commerce, with companies seeing a 250% increase in customer retention. Here's how to evolve your stack quickly.
For many SAP customers, adopting a composable approach to commerce is now a top priority. But what are the key technical challenges you'll face on your journey to composable commerce? And how can you create a best-of-breed approach to help ensure a smooth transition to a composable commerce architecture? 
The good news is that SAP has partnered with Smith to create a flexible framework that allows straightforward integrations with two of SAP's most formidable and endorsed partners, Coveo and Contentful.
Keeping Up With Shopper Expectations
To keep up with rising shopper expectations, retailers must become more nimble, harnessing the latest technologies to offer winning customer experiences. However, many companies are encumbered with monolithic ecommerce platforms and aging legacy application suites that lack flexibility.
At SAP's annual Sapphire conference, Winnie Albornoz, director of product Marketing for SAP CX laid out the problem. "What we've learned is that nearly 45% of leaders focused on customer experience have said that their top challenge is an increased need to deliver differentiating experiences. And that's difficult because on average, most organizations use at least nine different channels to engage customers."
It's nearly impossible to meet customer expectations if you don't know who the customer is, or can't stitch together their journey flow when they are traversing all these channels.
But Albornoz is quick to point out the payoff is big for companies that do adopt agile CX programs. The benefit is "to the tune of 2.5x year over year increase in customer retention rates," she added.
Companies like Coveo-customer Nespresso are pondering the right approach to having this agility. Ian Bennett, who heads up best practices and personalization optimization for Nespresso, shared that they are still weighing headless ecommerce vs composable vs the more traditional monolithic tech stack, but are leaning into composable ecommerce experience today.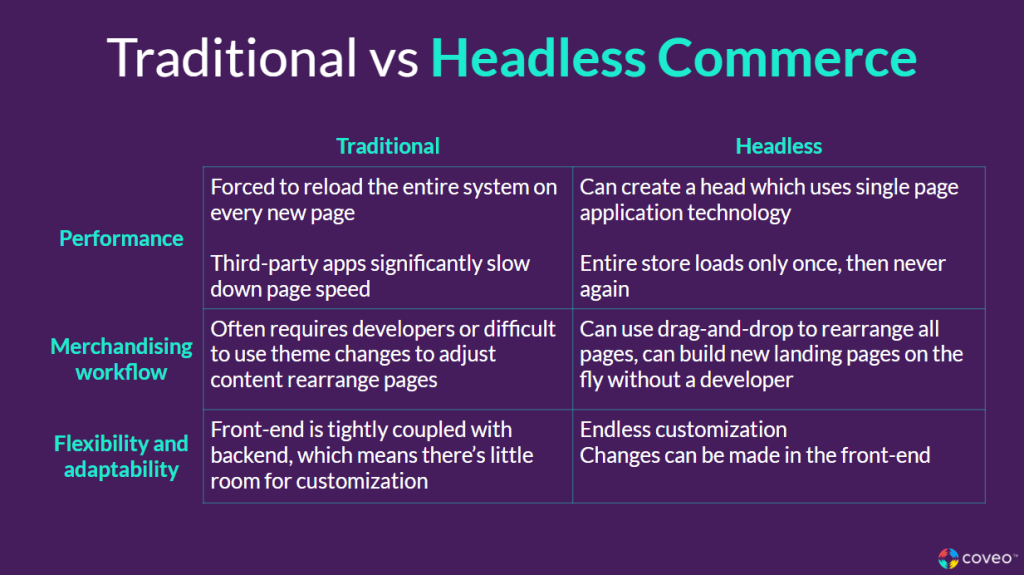 "The composability approach for us as a global brand truly brings flexibility market to market to decide what additional 'plugged in' tools work best for us. Allowing each market to compose their local toolset enables us to not be locked in and try to force a one size fits all solution when we know in many cases that doesn't work – especially within the ecommerce industry," he explained.
Evolving the Tech Stack
As companies look to evolve their ecommerce capabilities, they are turning to a composable commerce architecture. This uses a modular approach to extend your ecommerce architecture, connecting to best-of-breed applications that deliver specific ecommerce capabilities to meet your particular business needs.
But evolving the stack has had its challenges.
According to Global Head of Solution Management for the SAP Commerce Cloud Solution at SAP Riad Hijal, fitting together multiple composable solutions from different vendors can be expensive and time consuming. "Businesses across all industries are starting to recognize the long-term value of composable commerce," he said. "But many still struggle with barriers to adoption including higher up-front costs and increased complexity."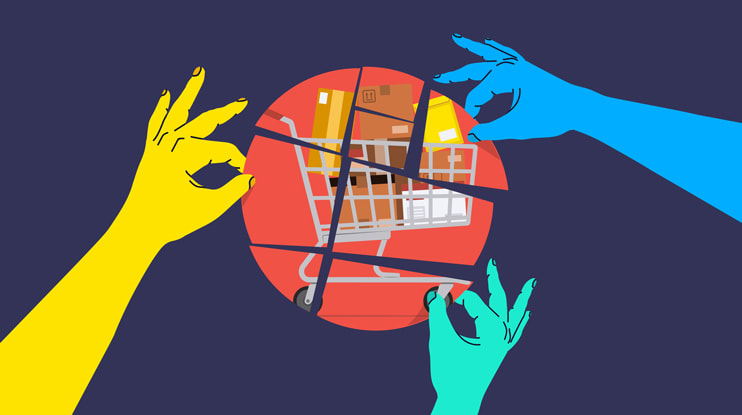 The process of moving to a composable commerce architecture can also be time-consuming. You need to identify key priorities, pinpointing the specific ecommerce capabilities that are most important for your business.
You must then vet prospective solutions to deliver those capabilities, evaluating whether they are a good fit for you. In addition, you need to look at the skills of your IT team to see if they have the knowledge required for a successful deployment – or if you need help from external resources.
Ease of integration is a key consideration when you are choosing a composable solution. Crucial to the composable approach is the ability to integrate applications from different vendors to work together effectively. For example, Coveo's AI Search Platform has more than 100 native connectors to make integration seamless.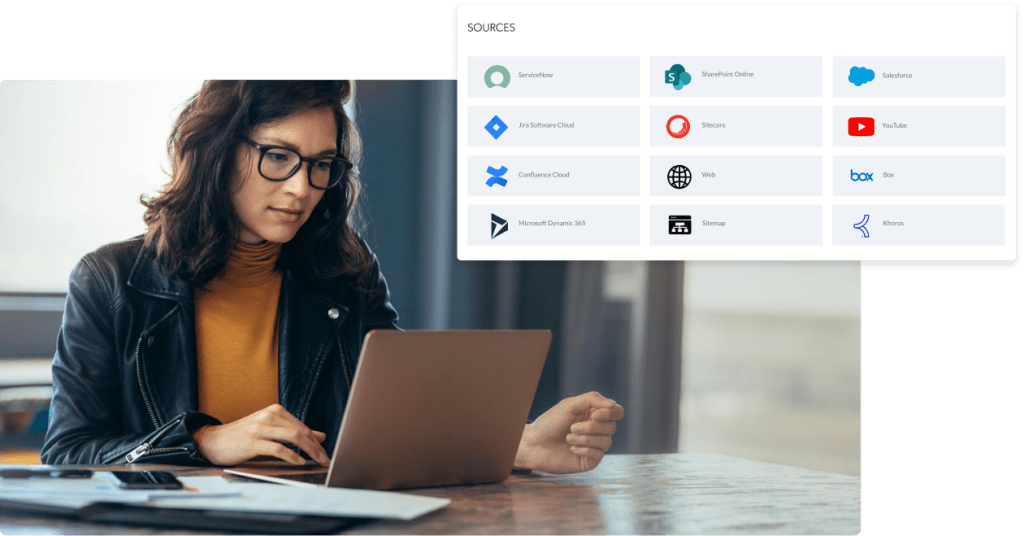 SAP's Approach to Composable Commerce
Your SAP investment is actually primed for a composable approach. This is key, as a solid ecommerce foundation allows headless ecommerce operations, enabling you to decouple the presentation layer from the back-end ecommerce engine. Without this, you won't be able to integrate the latest technologies into your front-end framework.
SAP Commerce Cloud provides a robust, feature-rich foundation that allows you to:
Simplify the move to composable commerce by letting you add composable solutions as and when you need them, wherever it works best for your business.
Innovate with cloud-native extensibility and microservices and decouple customizations for SAP Commerce Cloud. These let you respond quickly to new business opportunities.
Meet business needs faster with tailored industry capabilities that let you combine industry-specific business flows with ecommerce activities.
Adopt ready-to-go solutions from leading partners. SAP Commerce Cloud offers a highly curated ecosystem of partners that offer pre-integrated and certified, best-of-breed composable solutions. This means you can develop your composable commerce architecture quickly, cost-effectively and with low deployment risk.
Lowering the Barriers With Endorsed Partners
Smith is one example of an SAP partner that is taking a leadership role in smoothing the transition to composable commerce for customers. Smith's Ascend Composable Extension for SAP Commerce Cloud offers flexible extensions that fast-track composability with prebuilt integrations, data models, extension points and UI components.
The extension lets you deliver and scale immersive, personalized commerce experiences with the flexibility to extend and adapt the solution as needed to meet your business needs. As well as the robust enterprise capabilities of SAP Commerce Cloud, Ascend brings together solutions from two other SAP partners Coveo and Contentful.
"By starting with a composable architecture, which prioritizes interoperability, we've paired three industry-leading technologies to create a commerce solution that is business-ready from day one but can be further modified to support changing business rules, business expansion and rapid iteration," explains Ryan Heusinkveld, CTO at Smith.
According to Hijal the extension is helping companies adopt a composable approach faster: "It is exciting to see innovative SAP partners like Smith develop solutions that augment the benefits of SAP's hybrid composable commerce approach, through a compressed launch cycle and faster time-to-value."
The solutions incorporated into Ascend are as follows:
Coveo's AI-Powered Search and Recommendations
SAP endorsed partner Coveo offers a market-leading AI relevance platform that improves customer experiences and boosts conversion and revenue. As users interact with the storefront, the platform uses adaptive learning to enable personalized experiences. 
Meanwhile, natural-language processing delivers intent-based search results, helping buyers find what they need faster. In addition, the platform automates merchandising tasks such as managing product relationships to improve efficiency.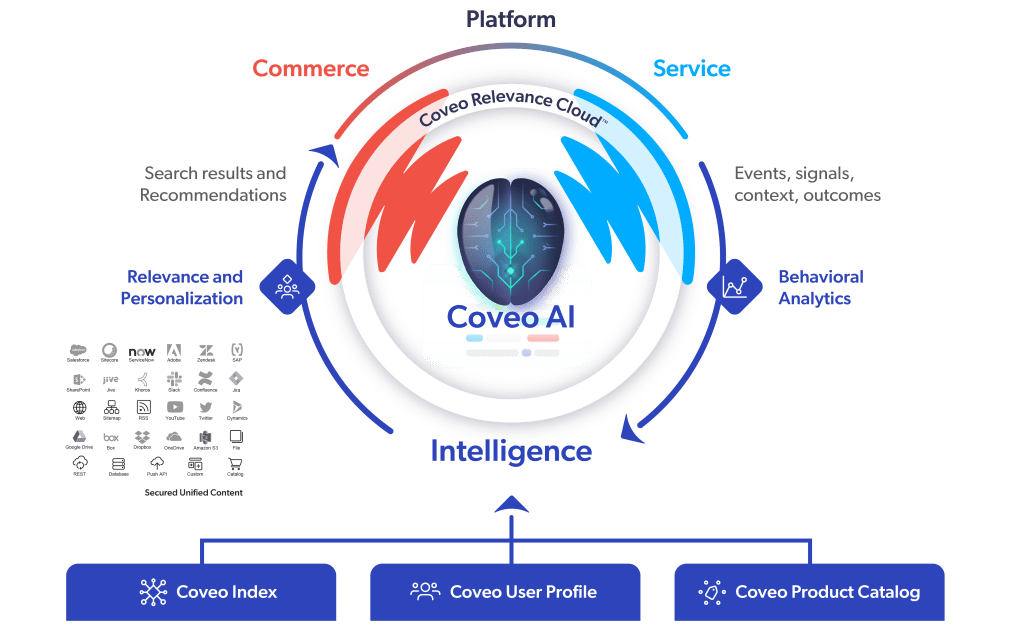 "By leveraging the Coveo Relevance Cloud AI platform to deliver search, personalization, recommendations and merchandising capabilities, you can take advantage of more than a decade of AI experience in helping brands personalize and drive profits through digital experiences," said Lisa Grayston, general manager of commerce at Coveo.
"As an SAP endorsed app and part of the Ascend Composable Extension for SAP Commerce Cloud, you can trust that you are choosing the right partner to deliver great customer experiences and impact business value."
Composable Content Management From Contentful
Contentful is a content infrastructure that lets you create, manage and distribute content to any platform. Unlike a content management system, Contentful gives you the freedom to create your own content model so you can decide which content you want to manage. In addition, RESTful APIs enable you to deliver your content across multiple channels such as websites, mobile apps (iOS, Android, or Windows Phone) or other platforms such as Google Glass or infinity.
With an uncluttered user interface, Contentful is an efficient tool for creating and managing your online content, either alone or working as a team. You can assign custom roles and permissions to team members, add validations depending on the kind of content you have to insert and add media such as images, documents, sounds or video.
Patrick Finn, vice president of channels and alliances at Contentful, believes that Smith's Ascend extension for SAP Commerce Cloud is making composable commerce more accessible for businesses: "We are pleased to team with Smith as it takes a leadership role providing composable commerce solutions to SAP Commerce customers. Smith's Ascend offering makes it easy for customers of SAP Commerce Cloud to quickly start their composable journey."
An Iterative Approach to Composable Commerce
A key reason why the trio of partners are an attractive proposition for companies is the fact they allow an incremental approach to establishing a composable commerce architecture. When composing in this fashion, it's important to identify any areas of friction for the customer.
Starting at the first point of contact all the way through to post-purchase communications, this analysis helps you prioritize the most pressing needs or most critical problems before evaluating potential composable solutions. You can then compose a "best-of-need" solution by deploying solutions that address the most important areas first, leaving less-critical solutions for later in your composable architecture journey.
Dig Deeper
Learn how to get started with Composable Commerce with Search and Content featuring the introduction of Ascend SAP Commerce Cloud Composable Extension, an integrated demo of Coveo and Contentful on SAP Commerce Cloud, built by Smith.

Originally posted on coveo.com